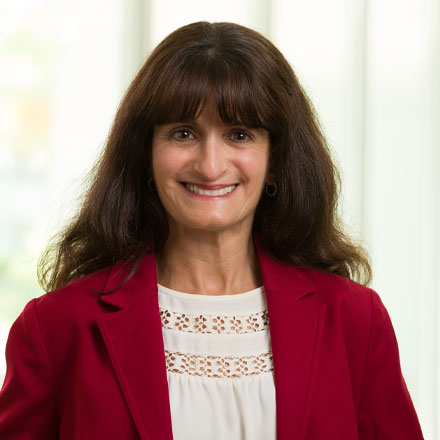 Audra DePaolo practices primarily in the areas of appellate, complex commercial, and estate and probate litigation. She also drafts and reviews contracts and corporate documents for individual and business clients and handles estate administration.
Upon graduation from law school, Ms. DePaolo was a judicial law clerk to the Hon. Peter Ciolino, A.J.S.C., former Assignment Judge of Bergen County.
Ms. DePaolo is a member of the New Jersey State Bar Association and was recently reappointed as a member of the Appellate Practice Committee. She is also a member of the Bergen County Bar Association and the Association of the Federal Bar of New Jersey.
In 2014, 2015, 2016, 2017, 2018 and 2019, she was included on the list of Bergen's Top Lawyers by (201) Magazine, in Appellate Practice and Litigation. She was included on the list of New Jersey Super Lawyers Rising Stars in 2009 and 2010.
Appellate Litigation
Complex Commercial Litigation
Estate and Probate Litigation
New Jersey
New York
U.S. District Court District of New Jersey
U.S. Court of Appeals 3rd Circuit
U.S. Supreme Court
Rutgers, The State University of New Jersey School of Law - Newark, Newark, New Jersey
Rutgers University

B.A.
Honors: Phi Beta Kappa
Co-editor, LexisNexis Practice Guide New Jersey Personal Injury Litigation, LexisNexis, 2017-2019
Co-author with Barry A. Knopf, Medical Malpractice chapter in LexisNexis Practice Guide New Jersey Personal Injury Litigation, Mathew Bender/ Lexis-Nexis, 2007-2019
Co-author with Barry A. Knopf, McDougall v. Lamm: New Jersey Supreme Court Ruling that Emotional Distress Damages Are Not Available for Witnessing Death of Beloved Pet Keeps Man's Best Friend in the Dog House, LexisNexis Emerging Issues 6645, September, 2012
Co-author with Barry A. Knopf, Federal Court in Bashir v. The Home Depot Slices Lessor's Defense under NJPLA in Stump Grinder Case, LexisNexis Emerging Issues 6153, December, 2011
State of N.J. Dept. of Treasury v. Merrill Lynch & Co., 2013 WL 1830874 (NJ App.Div. 2013)
Fred Pond, L.L.C. v. Whitlock Mills, L.P., 2009 WL 3430145 (N.J. App.Div. 2009)
Lisowski v. New Jersey Transit, 2008 WL 4648396 (NJ App.Div. 2008)
Naviant Marketing Solutions, Inc. v. Larry Tucker, Inc., 339 F.3d 180 (3d Cir. 2003)
Dupree v. City of Clifton, 351 N.J. Super. 237 (App. Div. 2002), aff'd, 175 N.J. 449 (2003)
In re Villone, 361 N.J. Super. 478 (App. Div. 2003)
Noorily v. Thomas & Betts Corp., 188 F.3d 153 (3d Cir. 1999), cert. denied, 529 U.S. 1053 (2000)
Bergen's Top Lawyers, (201) Magazine
New Jersey Super Lawyers Rising Stars
Professional Associations and Memberships
New Jersey State Bar Association, Member
New Jersey State Bar Association, Appellate Practice Committee, Member
Bergen County Bar Association, Member
Association of the Federal Bar of New Jersey, Member