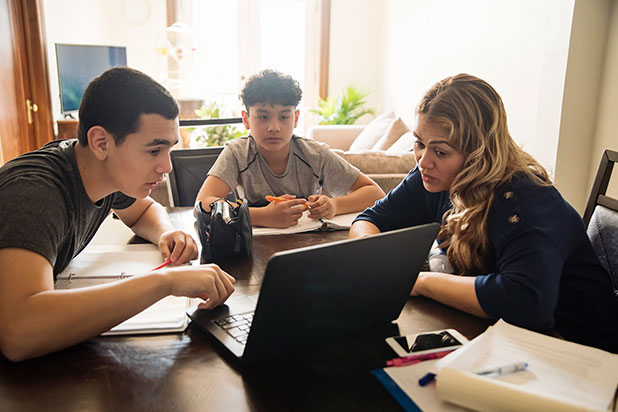 By Kory Ann Ferro
We are on lockdown. We are confined to our houses. Our children are climbing the walls. We are doing our best to home school, use interactive school portals, and keep them entertained while they are cut off from their social life. These are difficult times.
What can make these times more stressful is having to shuttle your children between two households. Does your co-parent work in the medical field and you are afraid of the children being exposed to COVID-19? Does your co-parent not comply with quarantine and social distancing guidelines? Is your co-parent not making efforts to homeschool when the children are with him or her? Do you reside with an elderly family member? Do you or someone you live with fall into a high risk category perhaps due to a pre-existing condition? Does your co-parent live far away, maybe even in another state?
All of these questions raise valid concerns about maintaining a parenting time schedule during the COVID-19 pandemic.
The courts are generally going to look at what is in the best interests of the child when determining if the cessation of a parenting time plan is warranted. This does not necessarily mean that one parent's time with the children may be stopped because of a fear (even if well-founded) of the risk of transmission of COVID-19. The courts have long recognized that an ongoing relationship with both parents is in the best interests of the children.
Generally, the courts will look to determine if both parties are acting reasonably and in the best interests of the children. If there is a genuine risk of COVID-19 transmission or someone in the household is high risk if exposed, is there an offer of additional virtual parenting time to the parent not in physical custody of the children? Is there an offer of make-up parenting time once the pandemic passes? Is there an offer to resume parenting time if the co-parent is symptom free for a period of time? What precautionary steps are being taken by each parent to guard against the spread of COVID-19?
If one parent unilaterally stops the others parenting time or if one parent insists on having parenting time despite an obvious risk to the children, the court is still hearing emergent applications, which require a showing of an immediate irreparable harm to the children. If a court determines that one parent did not act reasonably, it is possible for negative repercussions to be in his or her future.
Before you take action, contact the experienced family law team at Cohn Lifland. We remain available to meet your legal needs in this stressful time.